Opportunities in China's life sciences market
Life sciences real estate has gained attention from institutions due to the sector's positive development outlook and strong leasing momentum.
As prominence for life science and healthcare sectors are reaching new heights in China and strong momentum in the leasing demand for life science properties can be observed, investors are shifting their focus into life science properties. Recent property transactions demonstrate that investors still favor opportunistic and value-add investment strategies, but long-term investment opportunities will surface as Shanghai's life sciences sector continues to develop rapidly. We expect firms in the industry to prefer to operate in large multi-functional developments compared to stand-alone, single-function properties. From a real estate perspective, these developments typically evolve from stand-alone lab spaces and incubators into mixed-use developments with supporting amenities and eventually as large 'bioclusters'. The model below for the growth of life sciences firms and real estate is based on the experience gained from matured life sciences market, which serves as an example for life science property development going forward.
Figure 1: JLL Survey - Types of life sciences properties considered by institutional investors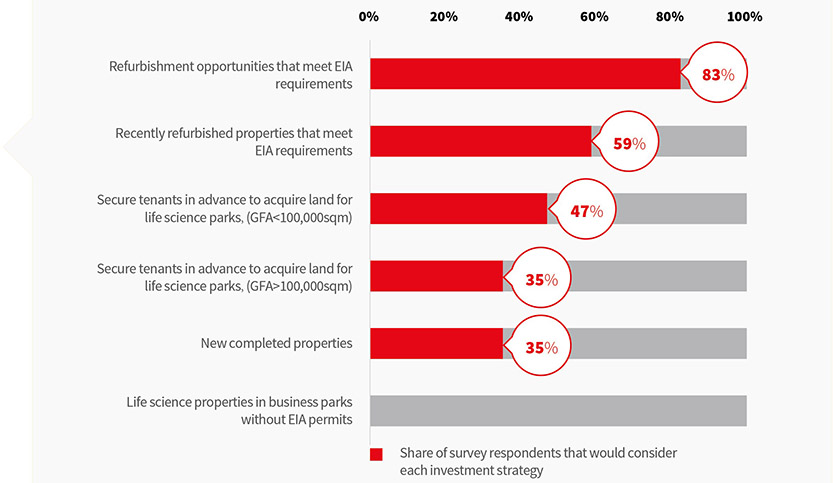 Bioclusters forged by cooperation across parties
Besides independent investments, investors are considering a variety of potential collaborations with life sciences firms, PE/VC firms in the life sciences industry, governments, and other domestic and foreign funds. These collaborations can improve outcomes for both investors and life sciences occupiers, resulting in larger scale concentrations of life sciences activity and amenities that we term "bioclusters". For example, collaborations with life sciences firms could allow real estate funds to have more development opportunities in life science business parks. Additionally, through cooperation with PE/VC firms, investors and developers can better understand the needs of life sciences firms and develop cutting-edge properties to match their needs. Finally, collaboration with foreign companies and funds can give domestic investors more opportunities to connect with foreign life sciences firms for in-licensing business strategies. Cooperation with the above-mentioned organisations can yield numerous benefits. That said, a biocluster model would require landlords to have proven asset management capabilities.

Figure 2: JLL Survey – Investment strategies adopted or under consideration

In North America, the Kendall Square innovation district in Cambridge, Massachusetts, is an example of a successful biocluster created via collaboration across multiple parties. This biocluster is built around life sciences, while the surrounding infrastructure and amenities act to support the area's life science firms. The government provides customised infrastructure such as public transportation to connect office space and R&D centres, along with other supporting facilities like hospitals.
Figure 3: Kendall Square life science biocluster

At the moment, China does not have a mature biocluster life science development yet. However, as an increasing amount of both domestic and foreign life science investors are moving towards long-term investment commitment, bioclusters are expected to surface in China. For example, Zhangjiang business park and various other business parks in Shanghai with mature industry clustering are already edging towards the aforementioned model. Looking ahead, many investment opportunities will emerge in the life sciences real estate market. In particular, core investors will be able to include life sciences properties in their city-wide portfolios and adopt C-REITs as an exit strategy.