A new efficiency landscape awaits Melbourne's logistics
Amidst a rapidly growing logistics market, and strong long term growth prospects, Melbourne must address the inefficiencies they face at the Port.
Melbourne's logistics and industrial sector is growing rapidly, where land values have nearly doubled in the past year for 2-5HA lots. However, the efficiency of Melbourne's logistical operations is lagging. The problem is partly attributable to the Port of Melbourne. The Port of Melbourne is Australia's largest cargo port and is imperative to seaborne trade infrastructure, handling over 2.28 million containers (TEU) each year.
Figure 1: Demand for Melbourne Industrial and Logistics space is growing rapidly 


Globally, the Port of Melbourne ranks in the bottom 15% for its efficiency1. Melbourne's long term economic prospects (27 out of 1,000 surveyed cities for long term economic growth prospects)2 mean a transformational change is required to address congestion from The Port onto Melbourne's roads. The difference will be in the use of rail infrastructure. Only 6% of freight is moved by rail in Melbourne, compared to 16% in Sydney3. For freight that needs to travel more than 200km, market usage indicates that rail has a lower cost structure than road transport.
The solution comes in the form of the Western Intermodal Freight Terminal (WIFT), a new hub for the efficient movement of domestic interstate containers. The WIFT intends to replace the existing intermodal terminals in the Dynon precinct. Connected to the Port of Melbourne via a dedicated freight rail link, the WIFT will improve the port's handling capacity, removing up to 2,000 daily truck movements from Melbourne's Inner West.4 Furthermore, the terminal will enable 1,800 meter-long, double-stacked trains to operate with significantly larger freight capacities, delivering greater efficiency through the existing rail network.4 The Victorian government is targeting railways to handle 20-30% of the Port's interstate container trade.
Figure 2: The WIFT development in relation to the Port and Melbourne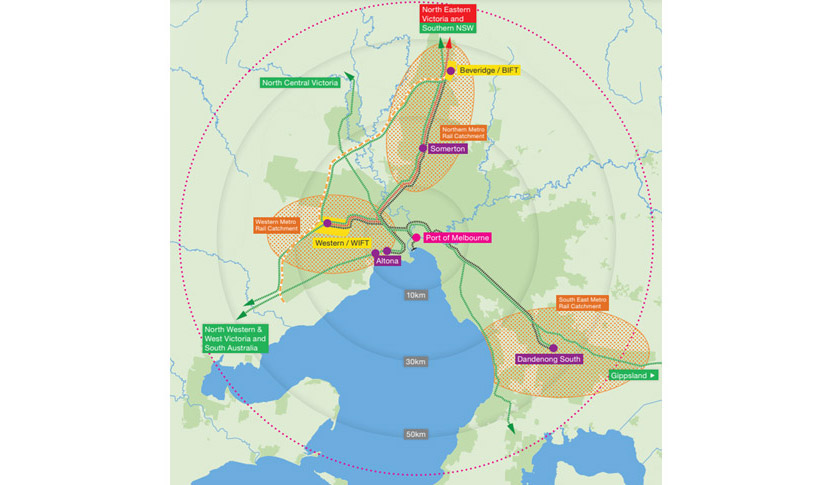 In its early stages, the development will benefit interstate logistics operations. While rail in the short term is less cost-effective than road transport, the AUD740million package dedicated to the WIFT in the 2022-23 Federal Budget means logistics operators will experience lower operating costs through greater economies of scale. Rail is more cost-effective for long-distance deliveries. A 600-metre-long train can carry 84 twenty-foot containers, compared to a B-double truck with an average capacity of three containers.

Another positive externality of the project will be the environment. Air quality, specifically in the inner west of Melbourne, has been deteriorating for years as a function of 11,000 trucks using the city roads daily. With Melbourne's population expected to grow to 11.2 million by 2056, a daily movement of 34,000 trucks would occur in and out of the port by 2050.5 Rail freight produces 16 times less carbon than road freight for every tonne per kilometre travelled. It is estimated that a 1% shift of freight from road to rail in Australia would reduce accidents, emissions, and health costs by $71.9 million per year.6

Proactive government intervention is necessary for ensuring the logistics sector operates more efficiently. As the Port of Melbourne is Australia's largest containership port, the WIFT will further increase the attractiveness of Melbourne West for warehouses, distribution and 3PL operators.
[1] World Bank & IHS Markit Container Port Performance Index 2020: https://www.maritimes.gr/images/PORTS/Container-Port-Performance_Index-WB-2021.pdf?_t=1620669079
[2] UN Habitat Global Urban Competitiveness Report 2020-2021 – Sustainable Competitiveness Ranking: https://unhabitat.org/sites/default/files/2021/11/1_report_on_competitiveness_of_cities_worldwide2020-2021.pdf
[3] World Bank & IHS Markit Container Port Performance Index 2020: https://www.maritimes.gr/images/PORTS/Container-Port-Performance_Index-WB-2021.pdf?_t=1620669079
[4] Port of Melbourne "Our Plan for Rail, 2020": https://www.portofmelbourne.com/wp-content/uploads/PoM-Our-Plan-for-Rail-2020.pdf
[5] Inquiry into Health Impacts of Air Pollution in Victoria: https://www.parliament.vic.gov.au/images/stories/committees/SCEP/Air_Pollution/Submissions/042_2021.04.01_-_Maribyrnong_Truck_Action_Group_MTAG_Redacted.pdf
[6] Australasian Railway Association, 2020: https://ara.net.au/about-rail/environmental-benefits/#:~:text=Taking%20trucks%20off%20our%20highways,on%20rail%20as%20demand%20increases