Why new Toys R Us stores have space to play
The once-shuttered retailer has opened experiential play centers ahead of the holidays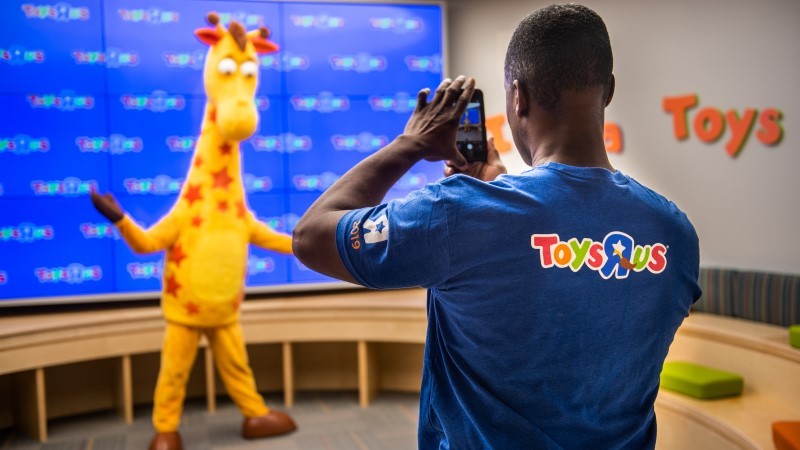 Just last year, it seemed that toy stores could become a thing of the past. But the reopening of Toys R Us across the U.S. is sign of how the retail world is just shifting toward experiences, in this case giving kids a place to play.
After shuttering all of its stores in 2018, Toys R Us came under the umbrella of Tru Kids Inc., a group of the lenders that took control of the company's assets. Tru Kids decided to take Toys R Us back into the physical retail realm by opening ten smaller stores where kids can play with toys – including outposts in New Jersey and Texas that opened ahead of the holidays. 
At about 6,500 square feet, the new stores are a fraction of their 40,000-square-foot predecessors, replacing large aisles with play areas and interactive displays. They will be a true test of "whether a pure-play experience store can thrive and how it can drive profits," says Greg Maloney, President of Retail at JLL.  
"'Experiential retail' has been a buzzword for some time," says Maloney. "In many ways, what Toys R Us is doing is the ultimate test of the experience model and will be a great case study to examine."
Do "experiences" drive profits?
The new Toys R Us stores feature theaters, interactive treehouses, spaces for events and birthday parties, and unboxed toys for kids to get their hands on.
Part of the idea is to use in-store experiences to drive sales. If kids are having fun, parents are much more willing to stay in the store. And the longer they stay, the more likely they are to shop.
This engaging experience is what Toys R Us can give customers that online-only retailers can't, Maloney says.
But unlike many retailers' experiential forays, Toys R Us does not appear to be to driving customers to their website to make purchases online, he says. The retailer currently lacks its own e-commerce distribution chain. Instead, through its partnership with Target, shoppers on the Toys R Us website can complete their purchases on Target.com. 
"Likely Tru Kids gets some profit from the referral, but not enough that it would be at the center of their strategy," Maloney says.
The profitability prospects may be clearer in the toymaker's  partnership with the retail software company B8ta, which installed sensors in the ceiling of the New Jersey and Texas stores that monitor, among other things, traffic patterns and shopper cadence, giving Tru Kids data on how different toys are performing, which they can share with brands.
This type of data can potentially help the company make decisions that drive profitability, and gives brands extra incentive to pay to have their products featured.
"It would seem that the plan to drive most of their revenue is by, in essence, sub-leasing space to toy makers for them to showcase their products," Maloney says. "If it works, it could be a model for future concepts. But, at the very least, it will be a great case study on how invested consumers actually are in the experience model."